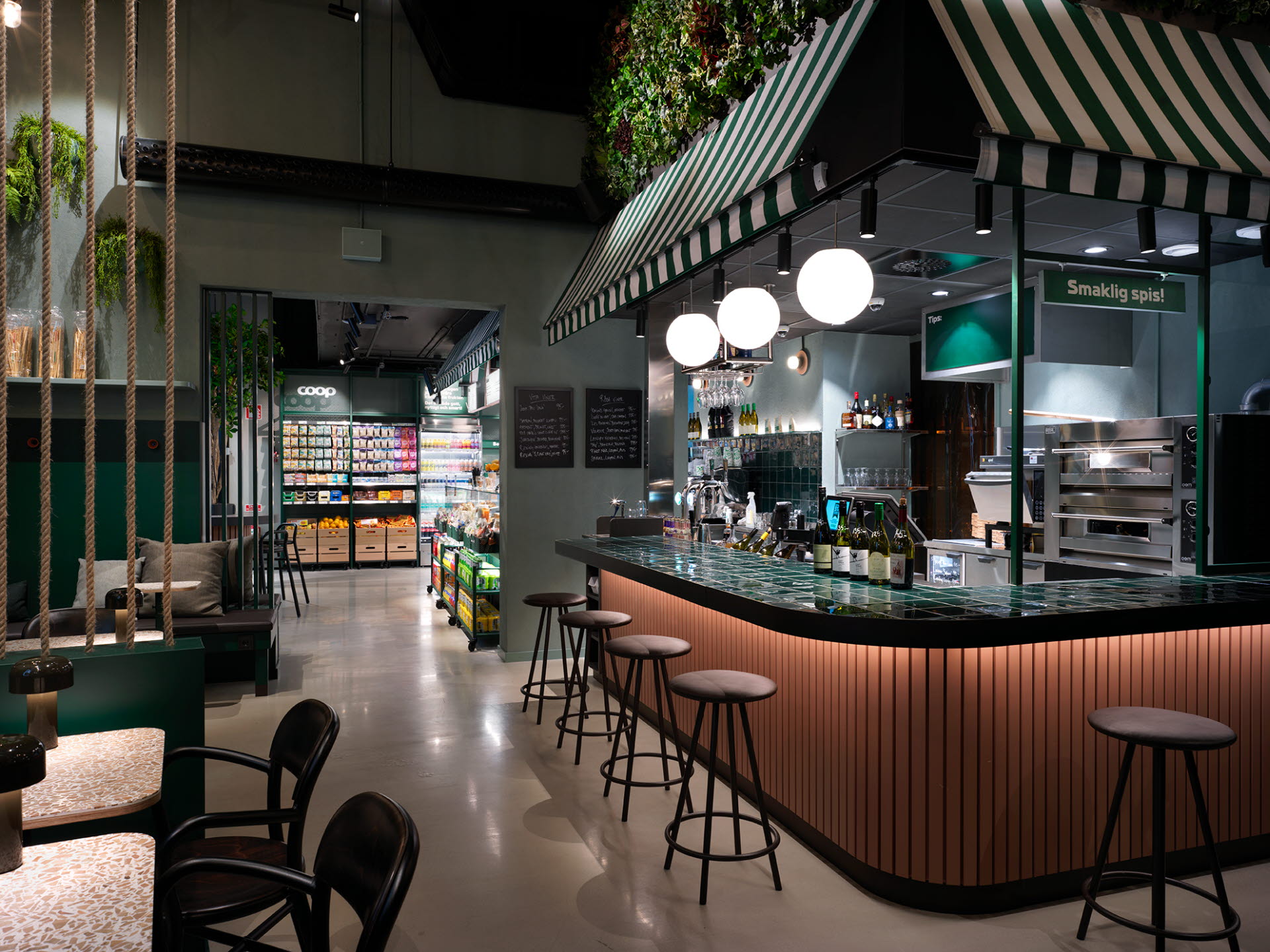 Getting together. The power of collaborative effort.
'Collaboration' is one of those buzzwords being used currently that in a lot of instances is not very subtle code for using up excess space in a large store.
Time to consume: 3 min
2 December 2022
By John Ryan
Store design specialist and Newstores founder
To a large degree, it is in the grocery arena that the c-word is most likely to be applied and seen, simply because this is the part of retail that has traditionally made large footprint branches standard in most locations. The twin effects of the pandemic (which led to a greater reliance on e-commerce for food shopping) and the rise of the discounters has meant that today there are stores across Europe that are bigger than they perhaps need to be.
Collaboration is perceived as being one of the responses to available space in supermarkets. Retailers and brands, from Decathlon and The Entertainer (a toyshop chain in the UK) to Le Drugstore Parisien, have all been dipping their toes into supermarket waters of late.
Shop-in-shops
For the most part, they are given shop-in-shop space by host grocers, meaning that Decathlon, for example, has its own dedicated 14,200 sq ft store-within-a-hypermarket at the Tesco Extra in Cardiff's Culverhouse Cross in UK. Given that it has its own shopfit, a world away from that used by its host, and is a substantial space (as large as many of the standalone mini-Decathlons that have been springing up across Europe, from Milan to UK), this looks and feels almost like a separate enterprise.
This is where the term collaboration is used loosely as this is, in effect, a shop within a much larger store whose appearance bears no relation to the host, taking its cue instead from its parent.
It is fair to say that this is the pattern seen in most collaborations as we currently see them, whether it's the B&Q-in-Asda branches, the almost discrete petshop from Noa in a Carrefour store in Saint-Brice-sous-Fốret, or Le Drugstore Parisen (a beauty and over-the-counter medicine retailer in Paris) which has taken up residence in a Casino hypermarket in Saint-Michel-sur-Orge, just to the south of the French capital . Most have their own in-supermarket entrance and once inside, the shopper will feel as if they have left the grocer and entered the world of the brand that has taken space.
Concessions, but in a grocer?
As such, there is a sense that this less about 'collaboration' and rather more to do with these being old-fashioned 'concessions' that just happen to be in supermarkets, rather than the normal department store model. There are, of course, benefits for both parties.
For a while, some of the biggest retail space users were wrongfooted by the rise of e-commerce and the fact that town and city centres have begun to function once more as locations in which to shop. Putting in a non-competitive retail offer within these stores served both to soak up now redundant in-store square footage and to make a proposition more worthwhile as far as being a destination is concerned.
All about the footfall
For the shop-in-shop owner the obvious payback for the price being demanded by the host retailer is footfall – most supermarkets have very high numbers of shoppers passing through their doors and capturing just a small percentage of this is worthwhile.
True collaboration would imply using the same checkouts, staff and exploiting the synergies between retail offers. This remains some way off, but the shop-in-shop is something that is not about to disappear and collaboration, of a sort, is underway.