In today's hyper-connected, digital consumer-driven world, the demand for omnichannel retail is greater than ever, and pharmacy retailers can no longer rely on a single-channel sales model. Covid-19 has seriously boosted consumers' need and demand for being able to engage across channels and digital touchpoints.
Covid-19 accelerated the need for omnichannel
The need for omnichannel business models was already great before corona, but the crisis has seriously accelerated the development and made customers extremely online competent. Due to the crisis, customers are now moving much more across channels, and the strength of pharmacy chains, therefore, lies in the combination of digital and physical channels.
The crisis has produced consumers that are oriented towards digital devices and platforms in an even greater sense than before, where especially the smartphone is the gateway to reality. The customer journey is influenced by technological and digital touchpoints, and customers want to engage seamlessly across all of them and be met with an integrated, coherent shopping experience. Pharmacy retailers need to utilize the strengths that each channel has in order to be able to engage customers who now more than ever demand the ease and speed that omnichannel provides. Hence, services like click & collect, return online orders in-store, etc. are no longer "nice to have" but a "need to have".
43% OF CONSUMER PREFER TO SHOP IN BOTH PHYSICAL STORES AND ONLINE

Retail Institute Scandinavia, consumer survey, 2020
Walgreens upgrades the omnichannel experience
The American pharmacy giant Walgreens has relaunched its loyalty program and modernized its app due to growing e-commerce and in an attempt to meet the customers' omnichannel behavior. The free loyalty program called "my Walgreens" makes it possible for customers to shop online and pick up their order after approx. 30 min. – either in-store, via curbside pick-up, or a drive-thru – and in addition, the program provides cashback rewards, which repay between 1-5% of the amount paid to the customers depending on what products they have purchased.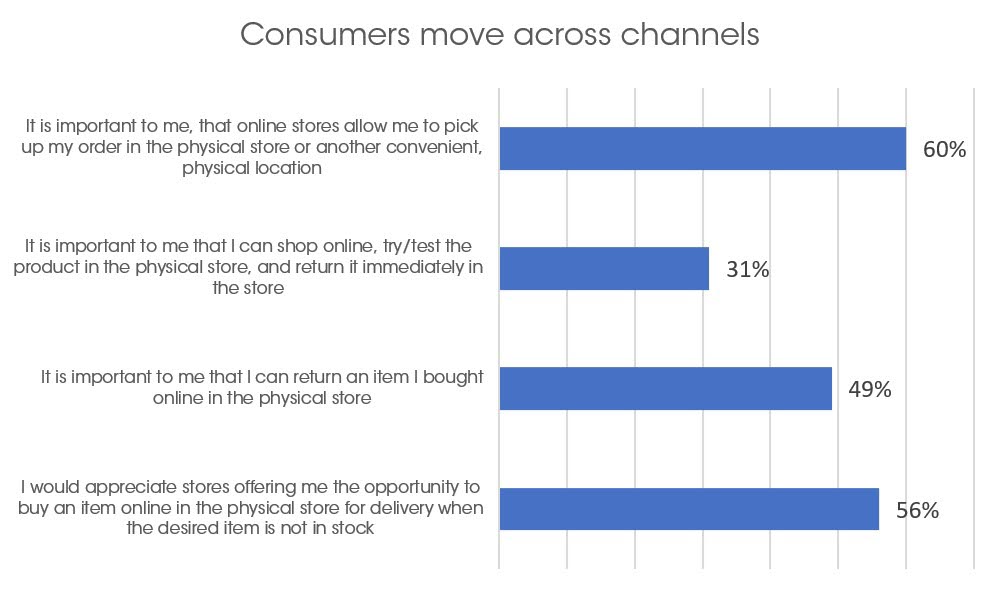 Members also get access to personalized offers based on their previous purchases, and they can pay seamlessly through the app's digital wallet when they are shopping in-store. The app also saves all the customer's receipts digitally and has a new chat feature that allows customers to chat with the chain's staff and book medical care or vaccinations online.