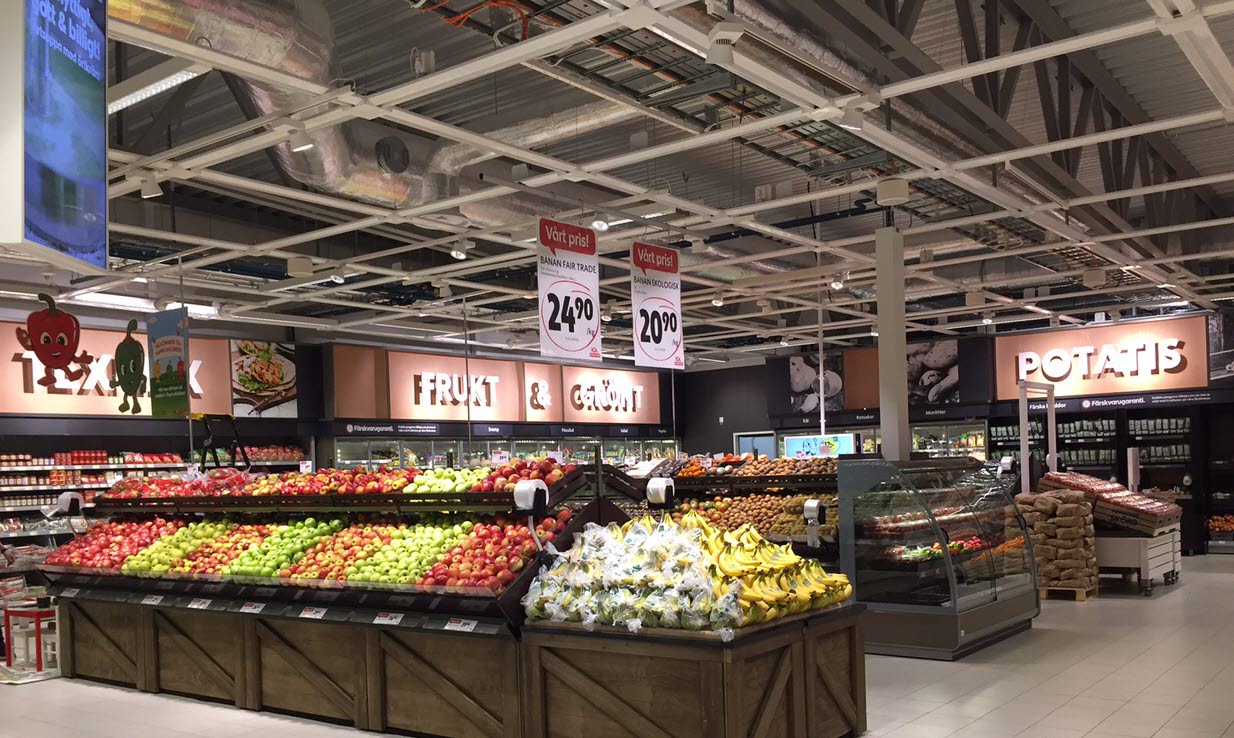 Functional Ceiling, with integrated lighting
Our functional ceiling is a perfect solution for stores where the ceiling installations are visible and there is a need to lower the ceiling height and control cables and lighting at the same time. A robust metal grid ceiling offers lots of flexibility when lighting and cables may be moved to suit a new layout without high installation costs. With a suspended functional ceiling it is possible to create more of a room feeling in the store and hide installations for ventilation and electrical power cables in the ceiling system or above it, creating a cleaner look to the ceiling.
Fast and flexible installation
Our system is made of white sheet metal and builds on L, T and X crossings making it possible to fit any store. It is easy to install without tools to connect channels or cover to the hub. Specially designed energy-efficient LED luminaires may be attached using hooks, making the lighting very flexible and easy to move without tools. The system is suspended on steel wires from the inner ceiling – a fast, secure and cost-efficient way of installing a complete ceiling to the store. The finished ceiling has squares of 2000 x 2000mm and comes in white colour RAL 9010. Accessories to attach decoration and electrical installations are available. For indoor applications only.
Flexible function with lighting comfort
A functional ceiling system combines the benefits of hiding electrical and other installations with the creation of a "smaller" room in locations with high ceiling heights. It allows for easy adjustments of the integrated lighting as well as loudspeakers when the shop needs to be refurbished and arranged for new products and concepts on display. No tools are needed for rearranging light and sound.
Improved consumer experience
A lower ceiling height in the store adds to the "room" feeling and creates better opportunities to use accent lighting than with high ceiling heights. It may be combined with signs or guidance solutions to help the consumer through the store. It also helps to ventilate the store compared to a lowered false ceiling.
Reduced operational cost
A low installation cost is secured since there is no need for tools to connect the different parts of the system. Lighting and other details such as signs and loudspeakers etc. may be added without tools and can be moved to fit a changing store layout, keeping refurbishment costs down. The LED lighting systems are designed for greater efficiency, making sure you keep energy costs down. The luminaires are installed on a low ceiling height, requiring less lumen output and energy to do the job.
All functional ceiling products