Slimme en flexibele lineaire verlichting - Avior XS
Gemakkelijk te verplaatsen en verstellen in de winkel bij het aanpassen van de inrichting.

Beschikbaar in een breed assortiment licht-outputs door middel van de DIP-switch.

Asymmetrische of symmetrische lichtverdeling, perfect om te combineren met spotlight.

Elegant lineair design

Installatie zonder gereedschap met elektronica verborgen in de rail.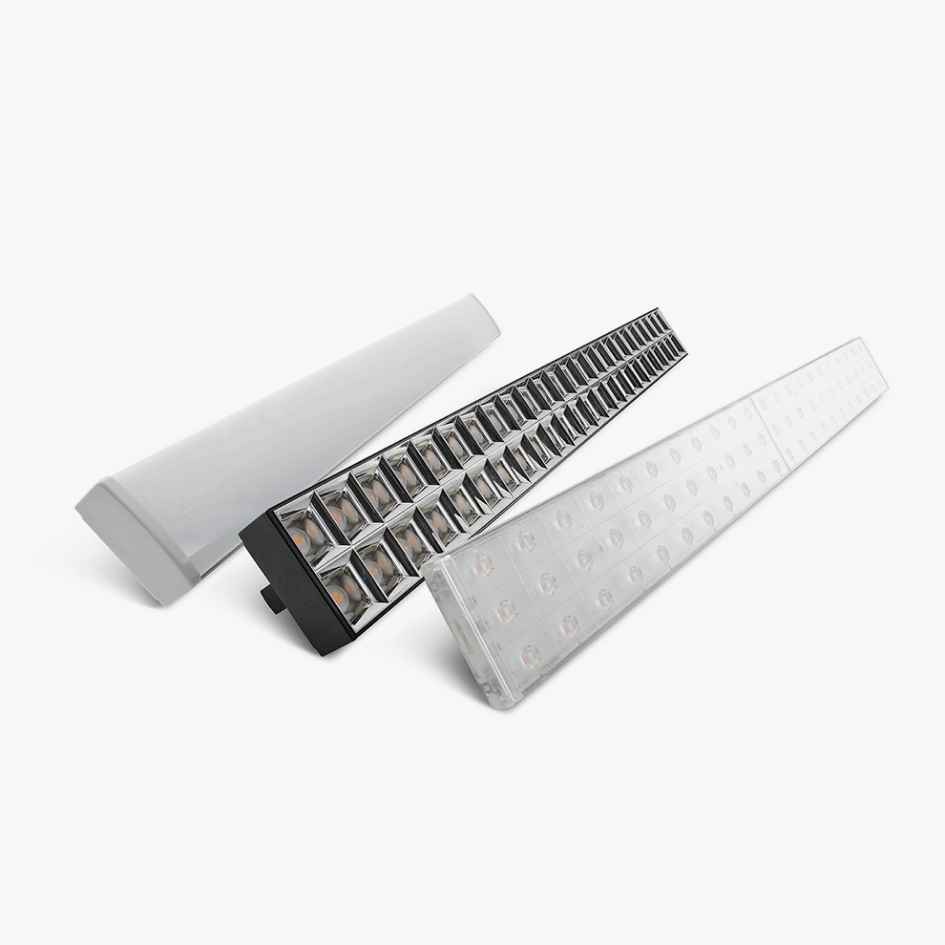 Flexibele, veelzijdige en kostenefficiënte lineaire verlichtingsoplossing, te installeren in winkels op rails, verzonken of opbouw. Breed assortiment aan lumen-outputs om aan te sluiten op verschillende plafondhoogtes. Tridonic driver met DIP-switch voor verschillende stroom- en lumen-outputs vanuit hetzelfde armatuur. Verschillende kleurtemperaturen en bundelhoeken, om aan de behoefte van iedere winkel te voldoen.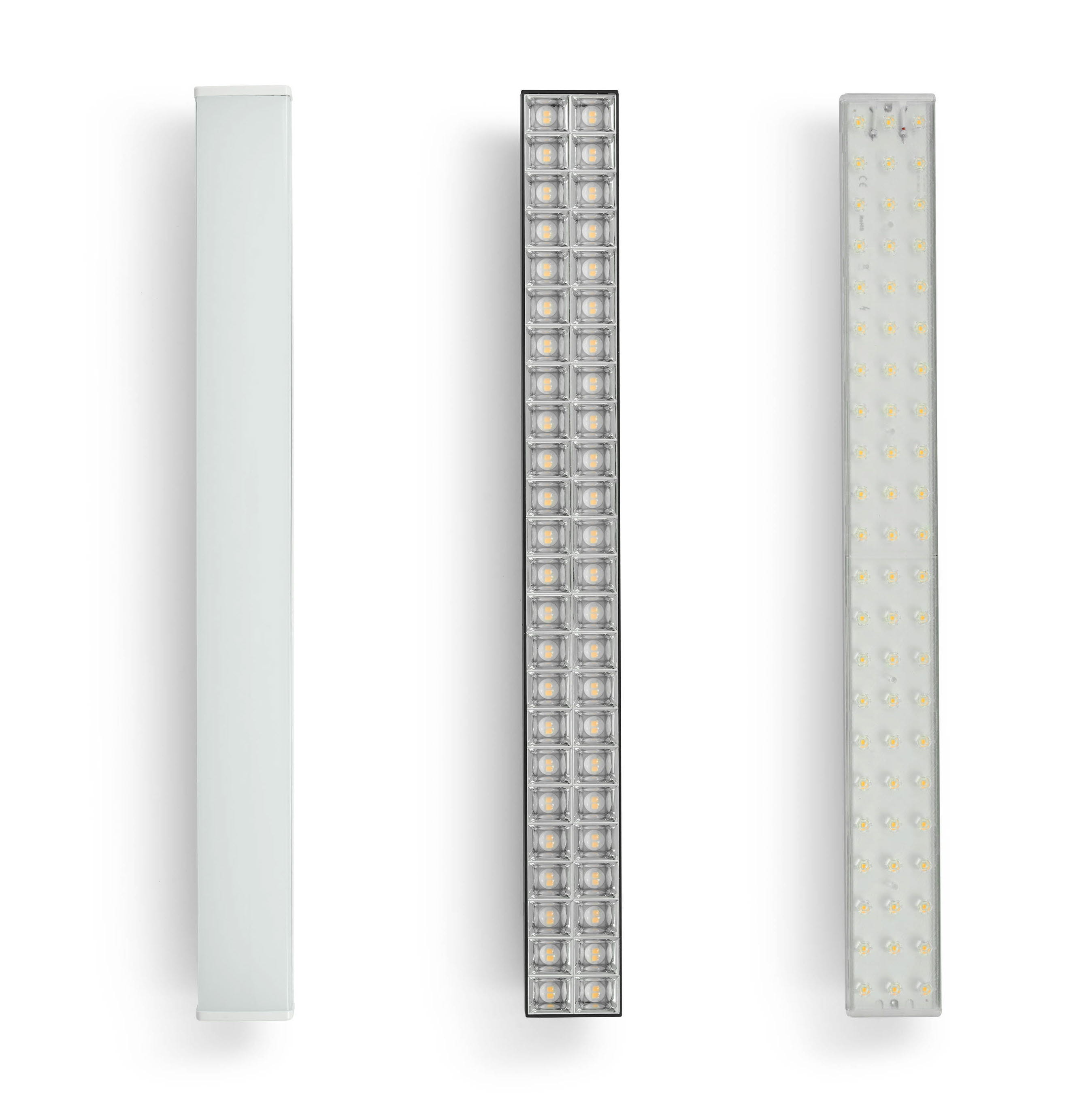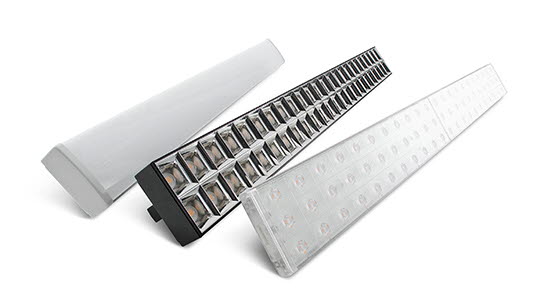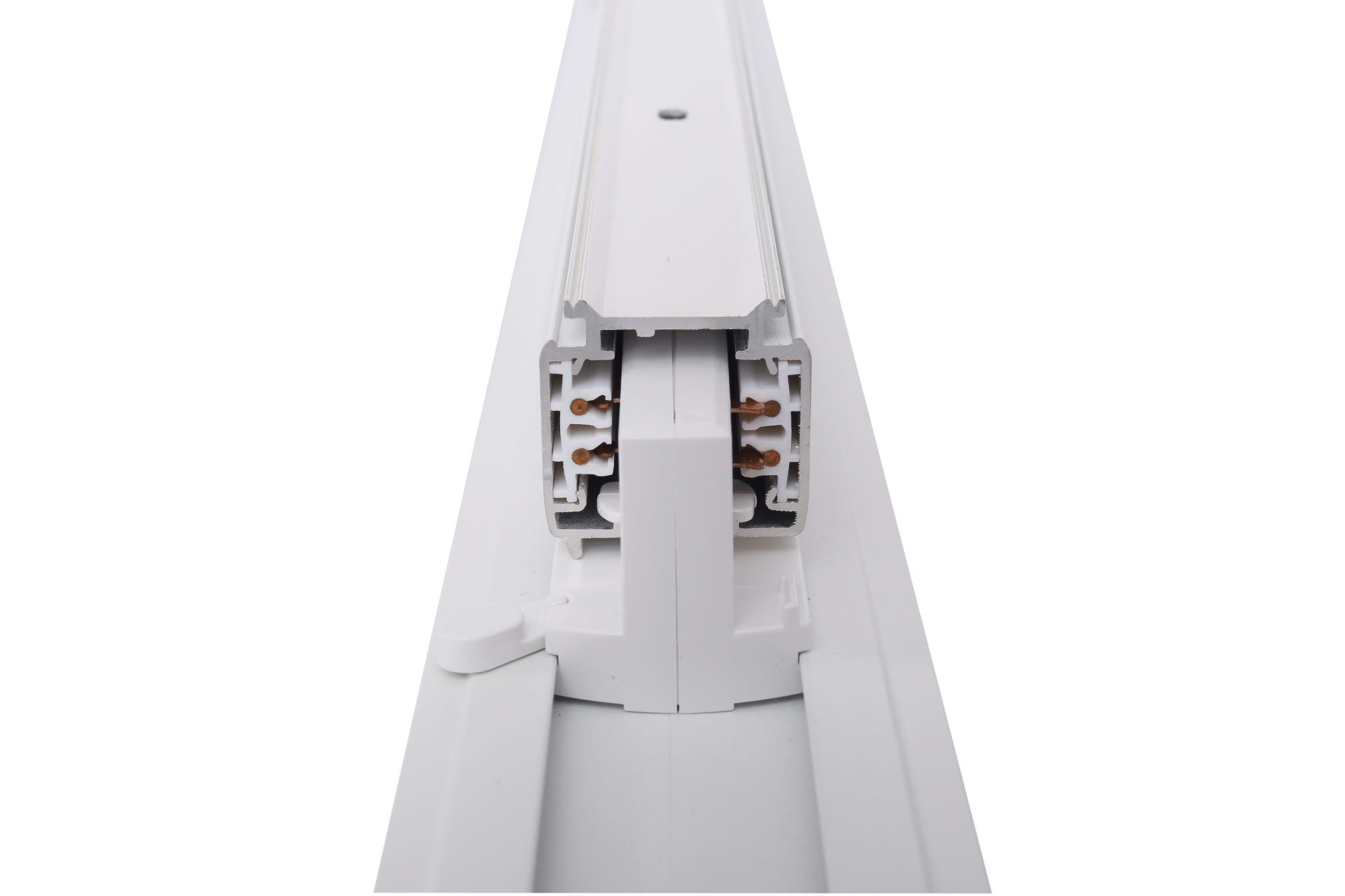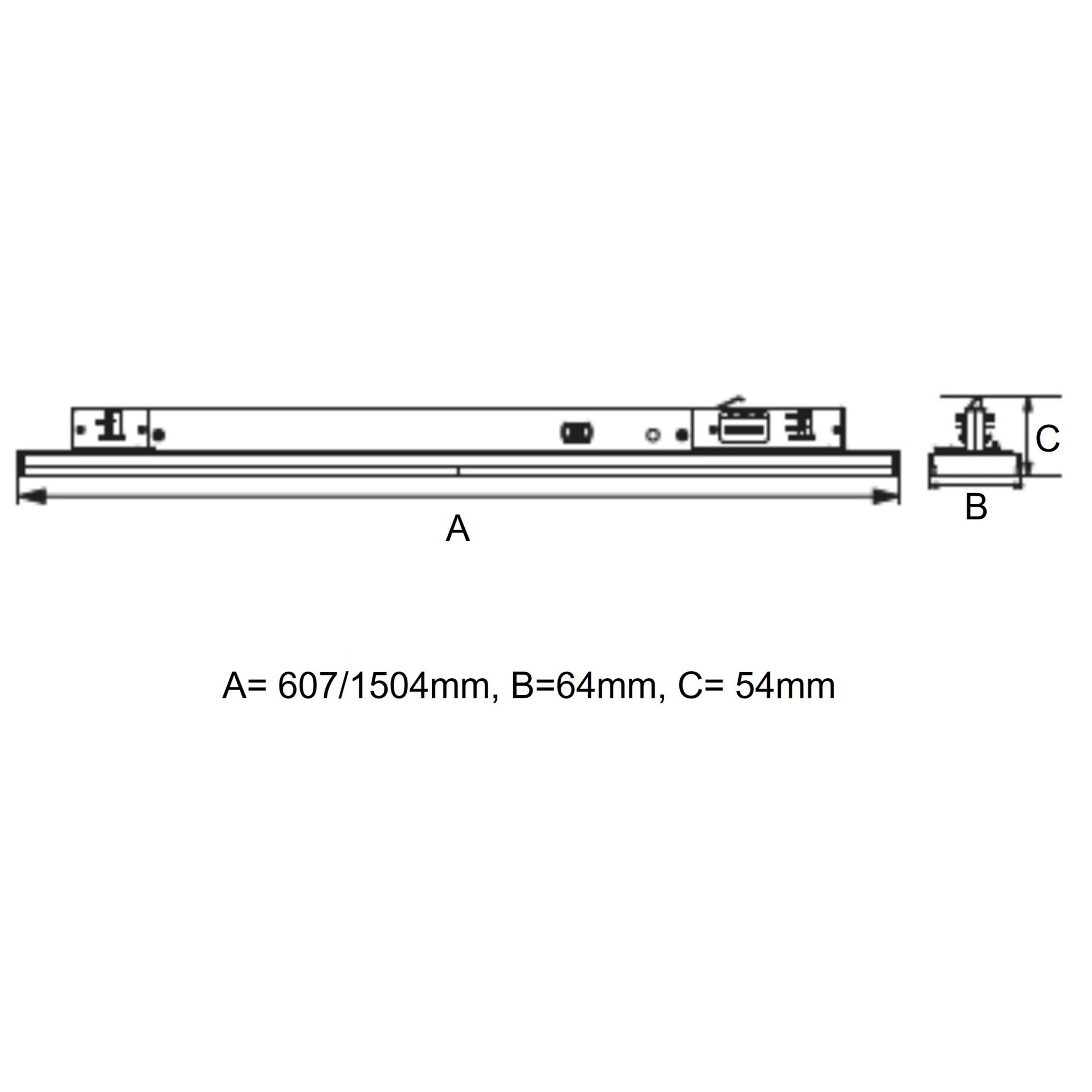 Technische specificaties
| Product Code | Colour | Control | CRI & light colour | Delivered lumen output (lm) | Light distribution | Product Name | System power (W) | |
| --- | --- | --- | --- | --- | --- | --- | --- | --- |
| 374-32086DE0013-1 | Black | On/off | 830 | 3516 | 69° | Avior XS, 600mm, Black, V2, 3500, 830, Reflector UGR < 19, 230V, In Track | 22 | PDF |
| 374-12127DD0013 | Black | On/off | 840 | 6650 | 120° | Avior XS 1500mm 7000, 840, 120°, Black | 43,5 | PDF |
| 374-11127DD0013 | White | On/off | 840 | 6650 | 120° | Avior XS 1500mm 7000, 840, 120°, White | 43,5 | PDF |
| 374-12146210013 | Black | On/off | 830 | 8600 | Single Asymmetric | Avior XS 1500mm 9000, 830, Single Asymmetric, Black | 56 | PDF |
| 374-11146210013 | White | On/off | 830 | 8600 | Single Asymmetric | Avior XS 1500mm 9000, 830, Single Asymmetric, White | 56 | PDF |
| 374-12146DD0013 | Black | On/off | 830 | 9400 | 120° | Avior XS 1500mm 9000, 830, 120°, Black | 68 | PDF |
| 374-11146DD0013 | White | On/off | 830 | 9400 | 120° | Avior XS 1500mm 9000, 830, 120°, White | 68 | PDF |
| 374-12157DD0013 | Black | On/off | 840 | 9850 | 120° | Avior XS 1500mm 10000, 840, 120°, Black | 68 | PDF |
| 374-11157DD0013 | White | On/off | 840 | 9850 | 120° | Avior XS 1500mm 10000, 840, 120°, White | 68 | PDF |
| 374-12156210013 | Black | On/off | 830 | 9550 | Single Asymmetric | Avior XS 1500mm 10000, 830, Single Asymmetric, Black | 64 | PDF |
| 374-11156210013 | White | On/off | 830 | 9550 | Single Asymmetric | Avior XS 1500mm 10000, 830, Single Asymmetric, White | 64 | PDF |
| 374-12157210013 | Black | On/off | 840 | 10050 | Single Asymmetric | Avior XS 1500mm 10000, 840, Single Asymmetric, Black | 64 | PDF |
| 374-11157210013 | White | On/off | 840 | 10050 | Single Asymmetric | Avior XS 1500mm 10000, 840, Single Asymmetric, White | 64 | PDF |
| 374-12146200013 | Black | On/off | 830 | 9300 | Double Asymmetric | Avior XS 1500mm 9000, 830, Double Asymmetric, Black | 64 | PDF |
| 374-11146200013 | White | On/off | 830 | 9300 | Double Asymmetric | Avior XS 1500mm 9000, 830, Double Asymmetric, White | 64 | PDF |
| 374-12157200013 | Black | On/off | 840 | 9800 | Double Asymmetric | Avior XS 1500mm 10000, 840, Double Asymmetric, Black | 64 | PDF |
| 374-11157200013 | White | On/off | 840 | 9800 | Double Asymmetric | Avior XS 1500mm 10000, 840, Double Asymmetric, White | 64 | PDF |
| 374-12156DA0013 | Black | On/off | 830 | 9600 | 30° | Avior XS 1500mm 10000, 830, 30°, Black | 64 | PDF |
| 374-11156DA0013 | White | On/off | 830 | 9600 | 30° | Avior XS 1500mm 10000, 830, 30°, White | 64 | PDF |
| 374-12157DA0013 | Black | On/off | 840 | 10100 | 30° | Avior XS 1500mm 10000, 840, 30°, Black | 64 | PDF |
| 374-11157DA0013 | White | On/off | 840 | 10100 | 30° | Avior XS 1500mm 10000, 840, 30°, White | 64 | PDF |
| 374-12156DB0013 | Black | On/off | 830 | 9500 | 60° | Avior XS 1500mm 10000, 830, 60°, Black | 64 | PDF |
| 374-11156DB0013 | White | On/off | 830 | 9500 | 60° | Avior XS 1500mm 10000, 830, 60°, White | 64 | PDF |
| 374-12157DB0013 | Black | On/off | 840 | 9950 | 60° | Avior XS 1500mm 10000, 840, 60°, Black | 64 | PDF |
| 374-11157DB0013 | White | On/off | 840 | 9950 | 60° | Avior XS 1500mm 10000, 840, 60°, White | 64 | PDF |
| 374-12156DC0013 | Black | On/off | 830 | 9500 | 90° | Avior XS 1500mm 10000, 830, 90°, Black | 64 | PDF |
| 374-11156DC0013 | White | On/off | 830 | 9500 | 90° | Avior XS 1500mm 10000, 830, 90°, White | 64 | PDF |
| 374-12157DC0013 | Black | On/off | 840 | 9950 | 90° | Avior XS 1500mm 10000, 840, 90°, Black | 64 | PDF |
| 374-11157DC0013 | White | On/off | 840 | 9950 | 90° | Avior XS 1500mm 10000, 840, 90°, White | 64 | PDF |
| 374-32086DD0013 | Black | On/off | 830 | 3200 | 120° | Avior XS 600mm 3500, 830, 120°, Black | 24,0 | PDF |
| 374-31086DD0013 | White | On/off | 830 | 3200 | 120° | Avior XS 600mm 3500, 830, 120°, White | 24,0 | PDF |
| 374-32087DD0013 | Black | On/off | 840 | 3400 | 120° | Avior XS 600mm 3500, 840, 120°, Black | 24,0 | PDF |
| 374-31087DD0013 | White | On/off | 840 | 3400 | 120° | Avior XS 600mm 3500, 840, 120°, White | 24,0 | PDF |
| 374-32086210013 | Black | On/off | 830 | 3450 | Single Asymmetric | Avior XS 600mm 3500, 830, Single Asymmetric, Black | 22,4 | PDF |
| 374-31086210013 | White | On/off | 830 | 3450 | Single Asymmetric | Avior XS 600mm 3500, 830, Single Asymmetric, White | 22,4 | PDF |
| 374-32087210013 | Black | On/off | 840 | 3650 | Single Asymmetric | Avior XS 600mm 3500, 840, Single Asymmetric, Black | 22,4 | PDF |
| 374-31087210013 | White | On/off | 840 | 3650 | Single Asymmetric | Avior XS 600mm 3500, 840, Single Asymmetric, White | 22,4 | PDF |
| 374-32086200013 | Black | On/off | 830 | 3350 | Double Asymmetric | Avior XS 600mm 3500, 830, Double Asymmetric, Black | 22,4 | PDF |
| 374-31086200013 | White | On/off | 830 | 3350 | Double Asymmetric | Avior XS 600mm 3500, 830, Double Asymmetric, White | 22,4 | PDF |
| 374-32087200013 | Black | On/off | 840 | 3500 | Double Asymmetric | Avior XS 600mm 3500, 840, Double Asymmetric, Black | 22,4 | PDF |
| 374-31087200013 | White | On/off | 840 | 3500 | Double Asymmetric | Avior XS 600mm 3500, 840, Double Asymmetric, White | 22,4 | PDF |
| 374-32086DA0013 | Black | On/off | 830 | 3500 | 30° | Avior XS 600mm 3500, 830, 30°, Black | 22,4 | PDF |
| 374-31086DA0013 | White | On/off | 830 | 3500 | 30° | Avior XS 600mm 3500, 830, 30°, White | 22,4 | PDF |
| 374-32087DA0013 | Black | On/off | 840 | 3650 | 30° | Avior XS 600mm 3500, 840, 30°, Black | 22,4 | PDF |
| 374-31087DA0013 | White | On/off | 840 | 3650 | 30° | Avior XS 600mm 3500, 840, 30°, White | 22,4 | PDF |
| 374-32086DB0013 | Black | On/off | 830 | 3400 | 60° | Avior XS 600mm 3500, 830, 60°, Black | 22,4 | PDF |
| 374-31086DB0013 | White | On/off | 830 | 3400 | 60° | Avior XS 600mm 3500, 830, 60°, White | 22,4 | PDF |
| 374-32087DB0013 | Black | On/off | 840 | 3600 | 60° | Avior XS 600mm 3500, 840, 60°, Black | 22,4 | PDF |
| 374-31087DB0013 | White | On/off | 840 | 3600 | 60° | Avior XS 600mm 3500, 840, 60°, White | 22,4 | PDF |
| 374-32086DC0013 | Black | On/off | 830 | 3400 | 90° | Avior XS 600mm 3500, 830, 90°, Black | 22,4 | PDF |
| 374-31086DC0013 | White | On/off | 830 | 3400 | 90° | Avior XS 600mm 3500, 830, 90°, White | 22,4 | PDF |
| 374-32087DC0013 | Black | On/off | 840 | 3600 | 90° | Avior XS 600mm 3500, 840, 90°, Black | 22,4 | PDF |
| 374-31087DC0013 | White | On/off | 840 | 3600 | 90° | Avior XS 600mm 3500, 840, 90°, White | 22,4 | PDF |
| 374-32066DD0013 | Black | On/off | 830 | 2400 | 120° | Avior XS 600mm 2500, 830, 120°, Black | 17,4 | PDF |
| 374-32076DD0013 | Black | On/off | 830 | 2850 | 120° | Avior XS 600mm 3000, 830, 120°, Black | 20,8 | PDF |
| 374-31066DD0013 | White | On/off | 830 | 2400 | 120° | Avior XS 600mm 2500, 830, 120°, White | 17,4 | PDF |
| 374-31076DD0013 | White | On/off | 830 | 2850 | 120° | Avior XS 600mm 3000, 830, 120°, White | 20,8 | PDF |
| 374-32067DD0013 | Black | On/off | 840 | 2550 | 120° | Avior XS 600mm 2500, 840, 120°, Black | 17,4 | PDF |
| 374-32077DD0013 | Black | On/off | 840 | 3000 | 120° | Avior XS 600mm 3000, 840, 120°, Black | 20,8 | PDF |
| 374-31067DD0013 | White | On/off | 840 | 2550 | 120° | Avior XS 600mm 2500, 840, 120°, White | 17,4 | PDF |
| 374-31077DD0013 | White | On/off | 840 | 3000 | 120° | Avior XS 600mm 3000, 840, 120°, White | 20,8 | PDF |
| 374-32066210013 | Black | On/off | 830 | 2575 | Single Asymmetric | Avior XS 600mm 2500, 830, Single Asymmetric, Black | 16,3 | PDF |
| 374-32076210013 | Black | On/off | 830 | 3050 | Single Asymmetric | Avior XS 600mm 3000, 830, Single Asymmetric, Black | 19,4 | PDF |
| 374-31066210013 | White | On/off | 830 | 2575 | Single Asymmetric | Avior XS 600mm 2500, 830, Single Asymmetric, White | 16,3 | PDF |
| 374-31076210013 | White | On/off | 830 | 3050 | Single Asymmetric | Avior XS 600mm 3000, 830, Single Asymmetric, White | 19,4 | PDF |
| 374-32067210013 | Black | On/off | 840 | 2700 | Single Asymmetric | Avior XS 600mm 2500, 840, Single Asymmetric, Black | 16,3 | PDF |
| 374-32077210013 | Black | On/off | 840 | 3200 | Single Asymmetric | Avior XS 600mm 3000, 840, Single Asymmetric, Black | 19,4 | PDF |
| 374-31067210013 | White | On/off | 840 | 2700 | Single Asymmetric | Avior XS 600mm 2500, 840, Single Asymmetric, White | 16,3 | PDF |
| 374-31077210013 | White | On/off | 840 | 3200 | Single Asymmetric | Avior XS 600mm 3000, 840, Single Asymmetric, White | 19,4 | PDF |
| 374-32066200013 | Black | On/off | 830 | 2500 | Double Asymmetric | Avior XS 600mm 2500, 830, Double Asymmetric, Black | 16,3 | PDF |
| 374-32076200013 | Black | On/off | 830 | 2950 | Double Asymmetric | Avior XS 600mm 3000, 830, Double Asymmetric, Black | 19,4 | PDF |
| 374-31066200013 | White | On/off | 830 | 2500 | Double Asymmetric | Avior XS 600mm 2500, 830, Double Asymmetric, White | 16,3 | PDF |
| 374-31076200013 | White | On/off | 830 | 2950 | Double Asymmetric | Avior XS 600mm 3000, 830, Double Asymmetric, White | 19,4 | PDF |
| 374-32067200013 | Black | On/off | 840 | 2650 | Double Asymmetric | Avior XS 600mm 2500, 840, Double Asymmetric, Black | 16,3 | PDF |
| 374-32077200013 | Black | On/off | 840 | 3100 | Double Asymmetric | Avior XS 600mm 3000, 840, Double Asymmetric, Black | 19,4 | PDF |
| 374-31067200013 | White | On/off | 840 | 2650 | Double Asymmetric | Avior XS 600mm 2500, 840, Double Asymmetric, White | 16,3 | PDF |
| 374-31077200013 | White | On/off | 840 | 3100 | Double Asymmetric | Avior XS 600mm 3000, 840, Double Asymmetric, White | 19,4 | PDF |
| 374-32066DA0013 | Black | On/off | 830 | 2600 | 30° | Avior XS 600mm 2500, 830, 30°, Black | 16,3 | PDF |
| 374-32076DA0013 | Black | On/off | 830 | 3100 | 30° | Avior XS 600mm 3000, 830, 30°, Black | 19,4 | PDF |
| 374-31066DA0013 | White | On/off | 830 | 2600 | 30° | Avior XS 600mm 2500, 830, 30°, White | 16,3 | PDF |
| 374-31076DA0013 | White | On/off | 830 | 3100 | 30° | Avior XS 600mm 3000, 830, 30°, White | 19,4 | PDF |
| 374-32067DA0013 | Black | On/off | 840 | 2750 | 30° | Avior XS 600mm 2500, 840, 30°, Black | 16,3 | PDF |
| 374-32077DA0013 | Black | On/off | 840 | 3250 | 30° | Avior XS 600mm 3000, 840, 30°, Black | 19,4 | PDF |
| 374-31067DA0013 | White | On/off | 840 | 2750 | 30° | Avior XS 600mm 2500, 840, 30°, White | 16,3 | PDF |
| 374-31077DA0013 | White | On/off | 840 | 3250 | 30° | Avior XS 600mm 3000, 840, 30°, White | 19,4 | PDF |
| 374-32066DB0013 | Black | On/off | 830 | 2550 | 60° | Avior XS 600mm 2500, 830, 60°, Black | 16,3 | PDF |
| 374-32076DB0013 | Black | On/off | 830 | 3000 | 60° | Avior XS 600mm 3000, 830, 60°, Black | 19,4 | PDF |
| 374-31066DB0013 | White | On/off | 830 | 2550 | 60° | Avior XS 600mm 2500, 830, 60°, White | 16,3 | PDF |
| 374-31076DB0013 | White | On/off | 830 | 3000 | 60° | Avior XS 600mm 3000, 830, 60°, White | 19,4 | PDF |
| 374-32067DB0013 | Black | On/off | 840 | 2700 | 60° | Avior XS 600mm 2500, 840, 60°, Black | 16,3 | PDF |
| 374-32077DB0013 | Black | On/off | 840 | 3200 | 60° | Avior XS 600mm 3000, 840, 60°, Black | 19,4 | PDF |
| 374-31067DB0013 | White | On/off | 840 | 2700 | 60° | Avior XS 600mm 2500, 840, 60°, White | 16,3 | PDF |
| 374-31077DB0013 | White | On/off | 840 | 3200 | 60° | Avior XS 600mm 3000, 840, 60°, White | 19,4 | PDF |
| 374-32066DC0013 | Black | On/off | 830 | 2550 | 90° | Avior XS 600mm 2500, 830, 90°, Black | 16,3 | PDF |
| 374-32076DC0013 | Black | On/off | 830 | 3000 | 90° | Avior XS 600mm 3000, 830, 90°, Black | 19,4 | PDF |
| 374-31066DC0013 | White | On/off | 830 | 2550 | 90° | Avior XS 600mm 2500, 830, 90°, White | 16,3 | PDF |
| 374-31076DC0013 | White | On/off | 830 | 3000 | 90° | Avior XS 600mm 3000, 830, 90°, White | 19,4 | PDF |
| 374-32067DC0013 | Black | On/off | 840 | 2700 | 90° | Avior XS 600mm 2500, 840, 90°, Black | 16,3 | PDF |
| 374-32077DC0013 | Black | On/off | 840 | 3200 | 90° | Avior XS 600mm 3000, 840, 90°, Black | 19,4 | PDF |
| 374-31067DC0013 | White | On/off | 840 | 2700 | 90° | Avior XS 600mm 2500, 840, 90°, White | 16,3 | PDF |
| 374-31077DC0013 | White | On/off | 840 | 3200 | 90° | Avior XS 600mm 3000, 840, 90°, White | 20 | PDF |
| 374-22126DD0013 | Black | On/off | 830 | 6450 | 120° | Avior XS 1200mm 7000, 830, 120°, Black | 47,9 | PDF |
| 374-21126DD0013 | White | On/off | 830 | 6450 | 120° | Avior XS 1200mm 7000, 830, 120°, White | 47,9 | PDF |
| 374-22127DD0013 | Black | On/off | 840 | 6800 | 120° | Avior XS 1200mm 7000, 840, 120°, Black | 47,9 | PDF |
| 374-21127DD0013 | White | On/off | 840 | 6800 | 120° | Avior XS 1200mm 7000, 840, 120°, White | 47,9 | PDF |
| 374-22126210013 | Black | On/off | 830 | 6900 | Single Asymmetric | Avior XS 1200mm 7000, 830, Single Asymmetric, Black | 44,8 | PDF |
| 374-21126210013 | White | On/off | 830 | 6900 | Single Asymmetric | Avior XS 1200mm 7000, 830, Single Asymmetric, White | 44,8 | PDF |
| 374-22127210013 | Black | On/off | 840 | 7250 | Single Asymmetric | Avior XS 1200mm 7000, 840, Single Asymmetric, Black | 44,8 | PDF |
| 374-21127210013 | White | On/off | 840 | 7250 | Single Asymmetric | Avior XS 1200mm 7000, 840, Single Asymmetric, White | 44,8 | PDF |
| 374-22126200013 | Black | On/off | 830 | 6700 | Double Asymmetric | Avior XS 1200mm 7000, 830, Double Asymmetric, Black | 44,8 | PDF |
| 374-21126200013 | White | On/off | 830 | 6700 | Double Asymmetric | Avior XS 1200mm 7000, 830, Double Asymmetric, White | 44,8 | PDF |
| 374-22127200013 | Black | On/off | 840 | 7050 | Double Asymmetric | Avior XS 1200mm 7000, 840, Double Asymmetric, Black | 44,8 | PDF |
| 374-21127200013 | White | On/off | 840 | 7050 | Double Asymmetric | Avior XS 1200mm 7000, 840, Double Asymmetric, White | 44,8 | PDF |
| 374-22126DA0013 | Black | On/off | 830 | 6950 | 30° | Avior XS 1200mm 7000, 830, 30°, Black | 44,8 | PDF |
| 374-21126DA0013 | White | On/off | 830 | 6950 | 30° | Avior XS 1200mm 7000, 830, 30°, White | 44,8 | PDF |
| 374-22127DA0013 | Black | On/off | 840 | 7300 | 30° | Avior XS 1200mm 7000, 840, 30°, Black | 44,8 | PDF |
| 374-21127DA0013 | White | On/off | 840 | 7300 | 30° | Avior XS 1200mm 7000, 840, 30°, White | 44,8 | PDF |
| 374-22126DB0013 | Black | On/off | 830 | 6850 | 60° | Avior XS 1200mm 7000, 830, 60°, Black | 44,8 | PDF |
| 374-21126DB0013 | White | On/off | 830 | 6850 | 60° | Avior XS 1200mm 7000, 830, 60°, White | 44,8 | PDF |
| 374-22127DB0013 | Black | On/off | 840 | 7200 | 60° | Avior XS 1200mm 7000, 840, 60°, Black | 44,8 | PDF |
| 374-21127DB0013 | White | On/off | 840 | 7200 | 60° | Avior XS 1200mm 7000, 840, 60°, White | 44,8 | PDF |
| 374-22126DC0013 | Black | On/off | 830 | 6850 | 90° | Avior XS 1200mm 7000, 830, 90°, Black | 44,8 | PDF |
| 374-21126DC0013 | White | On/off | 830 | 6850 | 90° | Avior XS 1200mm 7000, 830, 90°, White | 44,8 | PDF |
| 374-22127DC0013 | Black | On/off | 840 | 7200 | 90° | Avior XS 1200mm 7000, 840, 90°, Black | 44,8 | PDF |
| 374-21127DC0013 | White | On/off | 840 | 7200 | 90° | Avior XS 1200mm 7000, 840, 90°, White | 44,8 | PDF |
| 374-12116DD0013 | Black | On/off | 830 | 6350 | 120° | Avior XS 1500mm 6000, 830, 120°, Black | 43,5 | PDF |
| 374-12126DD0013 | Black | On/off | 830 | 7500 | 120° | Avior XS 1500mm 7000, 830, 120°, Black | 52,0 | PDF |
| 374-12136DD0013 | Black | On/off | 830 | 8500 | 120° | Avior XS 1500mm 8000, 830, 120°, Black | 59,9 | PDF |
| 374-11116DD0013 | White | On/off | 830 | 6350 | 120° | Avior XS 1500mm 6000, 830, 120°, White | 43,5 | PDF |
| 374-11126DD0013 | White | On/off | 830 | 7500 | 120° | Avior XS 1500mm 7000, 830, 120°, White | 52,0 | PDF |
| 374-11136DD0013 | White | On/off | 830 | 8500 | 120° | Avior XS 1500mm 8000, 830, 120°, White | 59,9 | PDF |
| 374-12117DD0013 | Black | On/off | 840 | 6350 | 120° | Avior XS 1500mm 6000, 840, 120°, Black | 43,5 | PDF |
| 374-12137DD0013 | Black | On/off | 840 | 7850 | 120° | Avior XS 1500mm 8000, 840, 120°, Black | 52,0 | PDF |
| 374-12147DD0013 | Black | On/off | 840 | 8900 | 120° | Avior XS 1500mm 9000, 840, 120°, Black | 59,9 | PDF |
| 374-11117DD0013 | White | On/off | 840 | 6350 | 120° | Avior XS 1500mm 6000, 840, 120°, White | 43,5 | PDF |
| 374-11137DD0013 | White | On/off | 840 | 7850 | 120° | Avior XS 1500mm 8000, 840, 120°, White | 52,0 | PDF |
| 374-11147DD0013 | White | On/off | 840 | 8900 | 120° | Avior XS 1500mm 9000, 840, 120°, White | 59,9 | PDF |
| 374-12116210013 | Black | On/off | 830 | 6300 | Single Asymmetric | Avior XS 1500mm 7000, 830, Single Asymmetric, Black | 40,7 | PDF |
| 374-12126210013 | Black | On/off | 830 | 6500 | Single Asymmetric | Avior XS 1500mm 7000, 830, Single Asymmetric, Black | 40,7 | PDF |
| 374-12136210013 | Black | On/off | 830 | 7600 | Single Asymmetric | Avior XS 1500mm 8000, 830, Single Asymmetric, Black | 48,6 | PDF |
| 374-11126210013 | White | On/off | 830 | 7600 | Single Asymmetric | Avior XS 1500mm 8000, 830, Single Asymmetric, White | 48,6 | PDF |
| 374-11136210013 | White | On/off | 830 | 7600 | Single Asymmetric | Avior XS 1500mm 8000, 830, Single Asymmetric, White | 48,6 | PDF |
| 374-12127210013 | Black | On/off | 840 | 6800 | Single Asymmetric | Avior XS 1500mm 7000, 840, Single Asymmetric, Black | 40,7 | PDF |
| 374-12137210013 | Black | On/off | 840 | 8000 | Single Asymmetric | Avior XS 1500mm 8000, 840, Single Asymmetric, Black | 48,6 | PDF |
| 374-12147210013 | Black | On/off | 840 | 9100 | Single Asymmetric | Avior XS 1500mm 9000, 840, Single Asymmetric, Black | 56,0 | PDF |
| 374-11127210013 | White | On/off | 840 | 6800 | Single Asymmetric | Avior XS 1500mm 7000, 840, Single Asymmetric, White | 40,7 | PDF |
| 374-11137210013 | White | On/off | 840 | 8000 | Single Asymmetric | Avior XS 1500mm 8000, 840, Single Asymmetric, White | 48,6 | PDF |
| 374-11147210013 | White | On/off | 840 | 9100 | Single Asymmetric | Avior XS 1500mm 9000, 840, Single Asymmetric, White | 56,0 | PDF |
| 374-12116200013 | Black | On/off | 830 | 6300 | Double Asymmetric | Avior XS 1500mm 6000, 830, Double Asymmetric, Black | 40,7 | PDF |
| 374-12126200013 | Black | On/off | 830 | 7400 | Double Asymmetric | Avior XS 1500mm 7000, 830, Double Asymmetric, Black | 48,6 | PDF |
| 374-12136200013 | Black | On/off | 830 | 8400 | Double Asymmetric | Avior XS 1500mm 8000, 830, Double Asymmetric, Black | 56,0 | PDF |
| 374-11126200013 | White | On/off | 830 | 7400 | Double Asymmetric | Avior XS 1500mm 7000, 830, Double Asymmetric, White | 48,6 | PDF |
| 374-11136200013 | White | On/off | 830 | 8400 | Double Asymmetric | Avior XS 1500mm 8000, 830, Double Asymmetric, White | 56,0 | PDF |
| 374-12127200013 | Black | On/off | 840 | 6600 | Double Asymmetric | Avior XS 1500mm 7000, 840, Double Asymmetric, Black | 40,7 | PDF |
| 374-12137200013 | Black | On/off | 840 | 7800 | Double Asymmetric | Avior XS 1500mm 8000, 840, Double Asymmetric, Black | 48,6 | PDF |
| 374-12147200013 | Black | On/off | 840 | 8800 | Double Asymmetric | Avior XS 1500mm 9000, 840, Double Asymmetric, Black | 56,0 | PDF |
| 374-11127200013 | White | On/off | 840 | 6600 | Double Asymmetric | Avior XS 1500mm 7000, 840, Double Asymmetric, White | 40,7 | PDF |
| 374-11137200013 | White | On/off | 840 | 7800 | Double Asymmetric | Avior XS 1500mm 8000, 840, Double Asymmetric, White | 48,6 | PDF |
| 374-11147200013 | White | On/off | 840 | 8800 | Double Asymmetric | Avior XS 1500mm 9000, 840, Double Asymmetric, White | 56,0 | PDF |
| 374-12126DA0013 | Black | On/off | 830 | 6550 | 30° | Avior XS 1500mm 7000, 830, 30°, Black | 40,7 | PDF |
| 374-12136DA0013 | Black | On/off | 830 | 7650 | 30° | Avior XS 1500mm 8000, 830, 30°, Black | 48,6 | PDF |
| 374-12146DA0013 | Black | On/off | 830 | 8700 | 30° | Avior XS 1500mm 9000, 830, 30°, Black | 56,0 | PDF |
| 374-11126DA0013 | White | On/off | 830 | 6550 | 30° | Avior XS 1500mm 7000, 830, 30°, White | 40,7 | PDF |
| 374-11136DA0013 | White | On/off | 830 | 7650 | 30° | Avior XS 1500mm 8000, 830, 30°, White | 48,6 | PDF |
| 374-11146DA0013 | White | On/off | 830 | 8700 | 30° | Avior XS 1500mm 9000, 830, 30°, White | 56,0 | PDF |
| 374-12127DA0013 | Black | On/off | 840 | 6900 | 30° | Avior XS 1500mm 7000, 840, 30°, Black | 40,7 | PDF |
| 374-12137DA0013 | Black | On/off | 840 | 8100 | 30° | Avior XS 1500mm 8000, 840, 30°, Black | 48,6 | PDF |
| 374-12147DA0013 | Black | On/off | 840 | 9150 | 30° | Avior XS 1500mm 9000, 840, 30°, Black | 56,0 | PDF |
| 374-11127DA0013 | White | On/off | 840 | 6900 | 30° | Avior XS 1500mm 7000, 840, 30°, White | 40,7 | PDF |
| 374-11137DA0013 | White | On/off | 840 | 8100 | 30° | Avior XS 1500mm 8000, 840, 30°, White | 48,6 | PDF |
| 374-11147DA0013 | White | On/off | 840 | 9150 | 30° | Avior XS 1500mm 9000, 840, 30°, White | 56,0 | PDF |
| 374-12116DB0013 | Black | On/off | 830 | 6400 | 60° | Avior XS 1500mm 6000, 830, 60°, Black | 40,7 | PDF |
| 374-12136DB0013 | Black | On/off | 830 | 7550 | 60° | Avior XS 1500mm 8000, 830, 60°, Black | 48,6 | PDF |
| 374-12146DB0013 | Black | On/off | 830 | 8550 | 60° | Avior XS 1500mm 9000, 830, 60°, Black | 56,0 | PDF |
| 374-11116DB0013 | White | On/off | 830 | 6400 | 60° | Avior XS 1500mm 6000, 830, 60°, White | 40,7 | PDF |
| 374-11136DB0013 | White | On/off | 830 | 7550 | 60° | Avior XS 1500mm 8000, 830, 60°, White | 48,6 | PDF |
| 374-11146DB0013 | White | On/off | 830 | 8550 | 60° | Avior XS 1500mm 9000, 830, 60°, White | 56,0 | PDF |
| 374-12127DB0013 | Black | On/off | 840 | 6750 | 60° | Avior XS 1500mm 7000, 840, 60°, Black | 40,7 | PDF |
| 374-12137DB0013 | Black | On/off | 840 | 7950 | 60° | Avior XS 1500mm 8000, 840, 60°, Black | 48,6 | PDF |
| 374-12147DB0013 | Black | On/off | 840 | 9000 | 60° | Avior XS 1500mm 9000, 840, 60°, Black | 56,0 | PDF |
| 374-11127DB0013 | White | On/off | 840 | 6750 | 60° | Avior XS 1500mm 7000, 840, 60°, White | 40,7 | PDF |
| 374-11137DB0013 | White | On/off | 840 | 7950 | 60° | Avior XS 1500mm 8000, 840, 60°, White | 48,6 | PDF |
| 374-11147DB0013 | White | On/off | 840 | 9000 | 60° | Avior XS 1500mm 9000, 840, 60°, White | 56,0 | PDF |
| 374-12116DC0013 | Black | On/off | 830 | 6400 | 90° | Avior XS 1500mm 6000, 830, 90°, Black | 40,7 | PDF |
| 374-12136DC0013 | Black | On/off | 830 | 7550 | 90° | Avior XS 1500mm 8000, 830, 90°, Black | 48,6 | PDF |
| 374-12146DC0013 | Black | On/off | 830 | 8550 | 90° | Avior XS 1500mm 9000, 830, 90°, Black | 56,0 | PDF |
| 374-11116DC0013 | White | On/off | 830 | 6400 | 90° | Avior XS 1500mm 6000, 830, 90°, White | 40,7 | PDF |
| 374-11136DC0013 | White | On/off | 830 | 7550 | 90° | Avior XS 1500mm 8000, 830, 90°, White | 48,6 | PDF |
| 374-11146DC0013 | White | On/off | 830 | 8550 | 90° | Avior XS 1500mm 9000, 830, 90°, White | 56,0 | PDF |
| 374-12127DC0013 | Black | On/off | 840 | 6750 | 90° | Avior XS 1500mm 7000, 840, 90°, Black | 40,7 | PDF |
| 374-12137DC0013 | Black | On/off | 840 | 7950 | 90° | Avior XS 1500mm 8000, 840, 90°, Black | 48,6 | PDF |
| 374-12147DC0013 | Black | On/off | 840 | 9000 | 90° | Avior XS 1500mm 9000, 840, 90°, Black | 56,0 | PDF |
| 374-11127DC0013 | White | On/off | 840 | 6750 | 90° | Avior XS 1500mm 7000, 840, 90°, White | 40,7 | PDF |
| 374-11137DC0013 | White | On/off | 840 | 7950 | 90° | Avior XS 1500mm 8000, 840, 90°, White | 48,6 | PDF |
| 374-11147DC0013 | White | On/off | 840 | 9000 | 90° | Avior XS 1500mm 9000, 840, 90°, White | 56,0 | PDF |
| 374-22106DD0013 | Black | On/off | 830 | 4800 | 120° | Avior XS 1200mm 5000, 830, 120°, Black | 34,8 | PDF |
| 374-22116DD0013 | Black | On/off | 830 | 5700 | 120° | Avior XS 1200mm 6000, 830, 120°, Black | 41,6 | PDF |
| 374-21026DD0013 | White | On/off | 830 | 4800 | 120° | Avior XS 1200mm 5000, 830, 120°, White | 34,8 | PDF |
| 374-21116DD0013 | White | On/off | 830 | 5700 | 120° | Avior XS 1200mm 6000, 830, 120°, White | 41,6 | PDF |
| 374-22107DD0013 | Black | On/off | 840 | 5050 | 120° | Avior XS 1200mm 5000, 840, 120°, Black | 34,8 | PDF |
| 374-22117DD0013 | Black | On/off | 840 | 6000 | 120° | Avior XS 1200mm 6000, 840, 120°, Black | 41,6 | PDF |
| 374-21027DD0013 | White | On/off | 840 | 5050 | 120° | Avior XS 1200mm 5000, 840, 120°, White | 34,8 | PDF |
| 374-21117DD0013 | White | On/off | 840 | 6000 | 120° | Avior XS 1200mm 6000, 840, 120°, White | 41,6 | PDF |
| 374-22106210013 | Black | On/off | 830 | 5200 | Single Asymmetric | Avior XS 1200mm 5000, 830, Single Asymmetric, Black | 32,6 | PDF |
| 374-22116210013 | Black | On/off | 830 | 6100 | Single Asymmetric | Avior XS 1200mm 6000, 830, Single Asymmetric, Black | 38,9 | PDF |
| 374-21026210013 | White | On/off | 830 | 5200 | Single Asymmetric | Avior XS 1200mm 5000, 830, Single Asymmetric, White | 32,6 | PDF |
| 374-21116210013 | White | On/off | 830 | 6100 | Single Asymmetric | Avior XS 1200mm 6000, 830, Single Asymmetric, White | 38,9 | PDF |
| 374-22107210013 | Black | On/off | 840 | 5450 | Single Asymmetric | Avior XS 1200mm 5000, 840, Single Asymmetric, Black | 32,6 | PDF |
| 374-22117210013 | Black | On/off | 840 | 6400 | Single Asymmetric | Avior XS 1200mm 6000, 840, Single Asymmetric, Black | 38,9 | PDF |
| 374-21027210013 | White | On/off | 840 | 5450 | Single Asymmetric | Avior XS 1200mm 5000, 840, Single Asymmetric, White | 32,6 | PDF |
| 374-21117210013 | White | On/off | 840 | 6400 | Single Asymmetric | Avior XS 1200mm 6000, 840, Single Asymmetric, White | 38,9 | PDF |
| 374-22106200013 | Black | On/off | 830 | 5000 | Double Asymmetric | Avior XS 1200mm 5000, 830, Double Asymmetric, Black | 32,6 | PDF |
| 374-22116200013 | Black | On/off | 830 | 5900 | Double Asymmetric | Avior XS 1200mm 6000, 830, Double Asymmetric, Black | 38,9 | PDF |
| 374-21026200013 | White | On/off | 830 | 5000 | Double Asymmetric | Avior XS 1200mm 5000, 830, Double Asymmetric, White | 32,6 | PDF |
| 374-21116200013 | White | On/off | 830 | 5900 | Double Asymmetric | Avior XS 1200mm 6000, 830, Double Asymmetric, White | 38,9 | PDF |
| 374-22107200013 | Black | On/off | 840 | 5300 | Double Asymmetric | Avior XS 1200mm 5000, 840, Double Asymmetric, Black | 32,6 | PDF |
| 374-22117200013 | Black | On/off | 840 | 6200 | Double Asymmetric | Avior XS 1200mm 6000, 840, Double Asymmetric, Black | 38,9 | PDF |
| 374-21027200013 | White | On/off | 840 | 5300 | Double Asymmetric | Avior XS 1200mm 5000, 840, Double Asymmetric, White | 32,6 | PDF |
| 374-21117200013 | White | On/off | 840 | 6200 | Double Asymmetric | Avior XS 1200mm 6000, 840, Double Asymmetric, White | 38,9 | PDF |
| 374-22106DA0013 | Black | On/off | 830 | 5200 | 30° | Avior XS 1200mm 5000, 830, 30°, Black | 32,6 | PDF |
| 374-22116DA0013 | Black | On/off | 830 | 6150 | 30° | Avior XS 1200mm 6000, 830, 30°, Black | 38,9 | PDF |
| 374-21026DA0013 | White | On/off | 830 | 5200 | 30° | Avior XS 1200mm 5000, 830, 30°, White | 32,6 | PDF |
| 374-21116DA0013 | White | On/off | 830 | 6150 | 30° | Avior XS 1200mm 6000, 830, 30°, White | 38,9 | PDF |
| 374-22107DA0013 | Black | On/off | 840 | 5500 | 30° | Avior XS 1200mm 5000, 840, 30°, Black | 32,6 | PDF |
| 374-22117DA0013 | Black | On/off | 840 | 6450 | 30° | Avior XS 1200mm 6000, 840, 30°, Black | 38,9 | PDF |
| 374-21027DA0013 | White | On/off | 840 | 5500 | 30° | Avior XS 1200mm 5000, 840, 30°, White | 32,6 | PDF |
| 374-21117DA0013 | White | On/off | 840 | 6450 | 30° | Avior XS 1200mm 6000, 840, 30°, White | 38,9 | PDF |
| 374-22106DB0013 | Black | On/off | 830 | 5150 | 60° | Avior XS 1200mm 5000, 830, 60°, Black | 32,6 | PDF |
| 374-22116DB0013 | Black | On/off | 830 | 6050 | 60° | Avior XS 1200mm 6000, 830, 60°, Black | 38,9 | PDF |
| 374-21026DB0013 | White | On/off | 830 | 5150 | 60° | Avior XS 1200mm 5000, 830, 60°, White | 32,6 | PDF |
| 374-21116DB0013 | White | On/off | 830 | 6050 | 60° | Avior XS 1200mm 6000, 830, 60°, White | 38,9 | PDF |
| 374-22107DB0013 | Black | On/off | 840 | 5400 | 60° | Avior XS 1200mm 5000, 840, 60°, Black | 32,6 | PDF |
| 374-22117DB0013 | Black | On/off | 840 | 6350 | 60° | Avior XS 1200mm 6000, 840, 60°, Black | 38,9 | PDF |
| 374-21027DB0013 | White | On/off | 840 | 5400 | 60° | Avior XS 1200mm 5000, 840, 60°, White | 32,6 | PDF |
| 374-21117DB0013 | White | On/off | 840 | 6350 | 60° | Avior XS 1200mm 6000, 840, 60°, White | 38,9 | PDF |
| 374-22106DC0013 | Black | On/off | 830 | 5150 | 90° | Avior XS 1200mm 5000, 830, 90°, Black | 32,6 | PDF |
| 374-22116DC0013 | Black | On/off | 830 | 6050 | 90° | Avior XS 1200mm 6000, 830, 90°, Black | 38,9 | PDF |
| 374-21026DC0013 | White | On/off | 830 | 5150 | 90° | Avior XS 1200mm 5000, 830, 90°, White | 32,6 | PDF |
| 374-21116DC0013 | White | On/off | 830 | 6050 | 90° | Avior XS 1200mm 6000, 830, 90°, White | 38,9 | PDF |
| 374-22107DC0013 | Black | On/off | 840 | 5400 | 90° | Avior XS 1200mm 5000, 840, 90°, Black | 32,6 | PDF |
| 374-22117DC0013 | Black | On/off | 840 | 6350 | 90° | Avior XS 1200mm 6000, 840, 90°, Black | 38,9 | PDF |
| 374-21027DC0013 | White | On/off | 840 | 5400 | 90° | Avior XS 1200mm 5000, 840, 90°, White | 32,6 | PDF |
| 374-21117DC0013 | White | On/off | 840 | 6350 | 90° | Avior XS 1200mm 6000, 840, 90°, White | 38,9 | PDF |
Gerelateerde producten