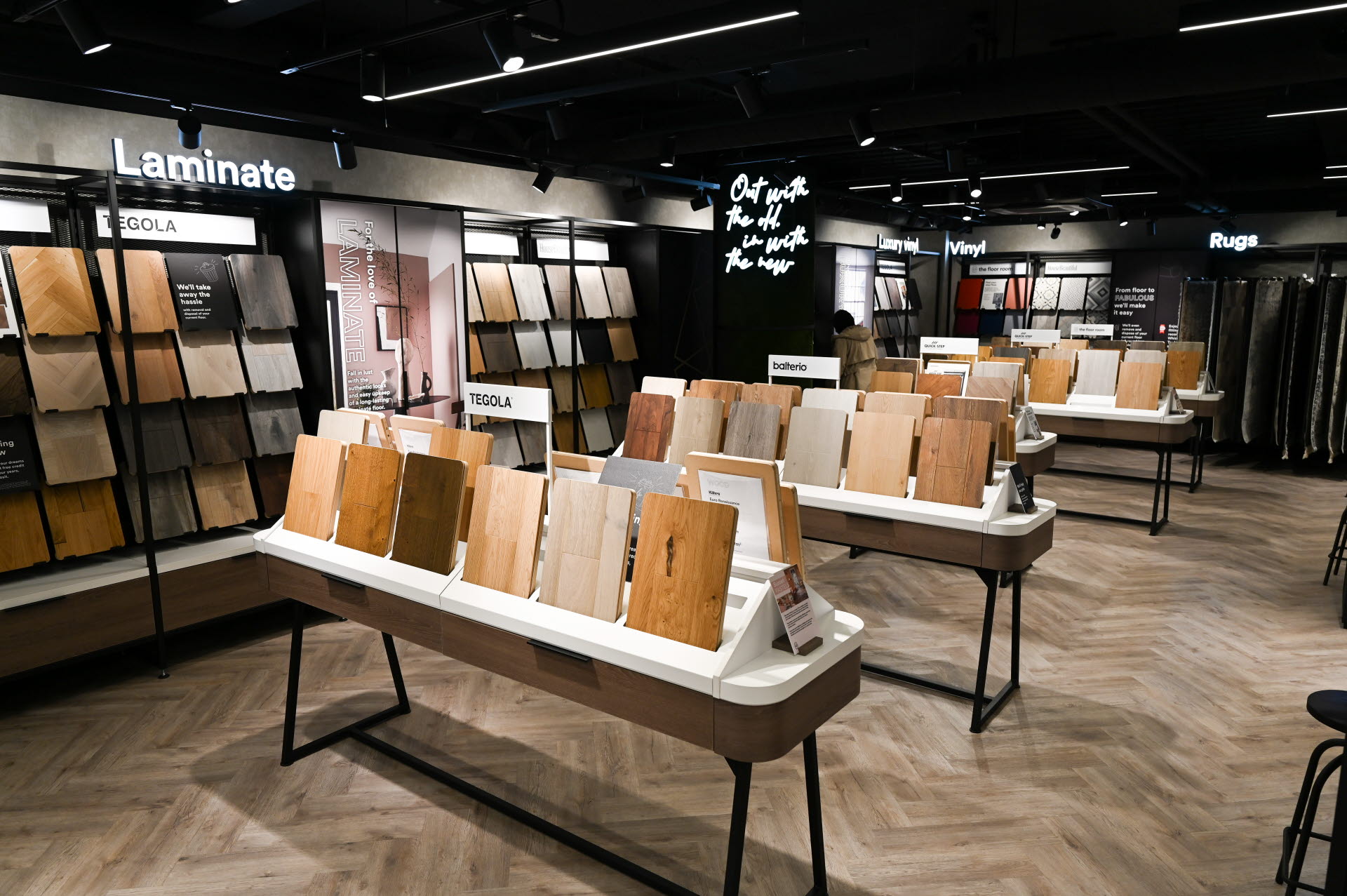 The floor room disrupts Home Improvement sector
Carpetright set out to deliver a premium shopping environment, located on one of London's busiest high streets, called 'the floor room'. Through Solution Design, ITAB co-created a brand-new retail concept by delivering a comprehensive service offer within a smaller format store, appealing to the local demographic while not alienating their loyal consumers.
Tech enhancements improve consumer experience
The in-store experience has been enhanced, while further streamlining colleague operations. Through delivering a variety of tech enhancements across the store, the consumer journey is further evolved allowing for a more personalised experience. Consumers can build a virtual shopping list as they browse while exploring the latest trends and services via their own mobile devices.
Dynamic digital columns
Structural columns feature large digital screens, playing rich content, highlighting the very latest trends, consumer inspiration and extended services. Dynamic digital screens engage consumers, while educating and encouraging dwell time.
Boutique interior design through intelligent lighting
The Floor Room delivers a 'boutique' and premium brand tone of voice and interior design. Through both practical and ambient spot lighting, consumers feel more relaxed and are encouraged to dwell and browse range at their leisure. Illuminated in-store wayfinding and clean communication, improve the consumer journey and navigation.
Improved consumer perception of Carpetright brand
The new concept store, situated on Tottenham Court Road, positions 'the floor room' by Carpetright in a high-profile location raising consumer expectations. ITAB improved perception by designing and developing fixtures, technology, and lighting that contribute to the overall success of the store.
Empowering colleagues for improved ROI
Intelligent service tablets empower colleagues with the right tools to engage consumers and streamline day-to-day operations. Tablets also provide access to inspiration insight, the latest trends, services, and payment transaction. Revolutionising the colleague journey provides greater control and consistency, improving consumer satisfaction and resulting in a higher conversion rate and ROI.
RELATED CASES
Get further inspiration from similar concepts