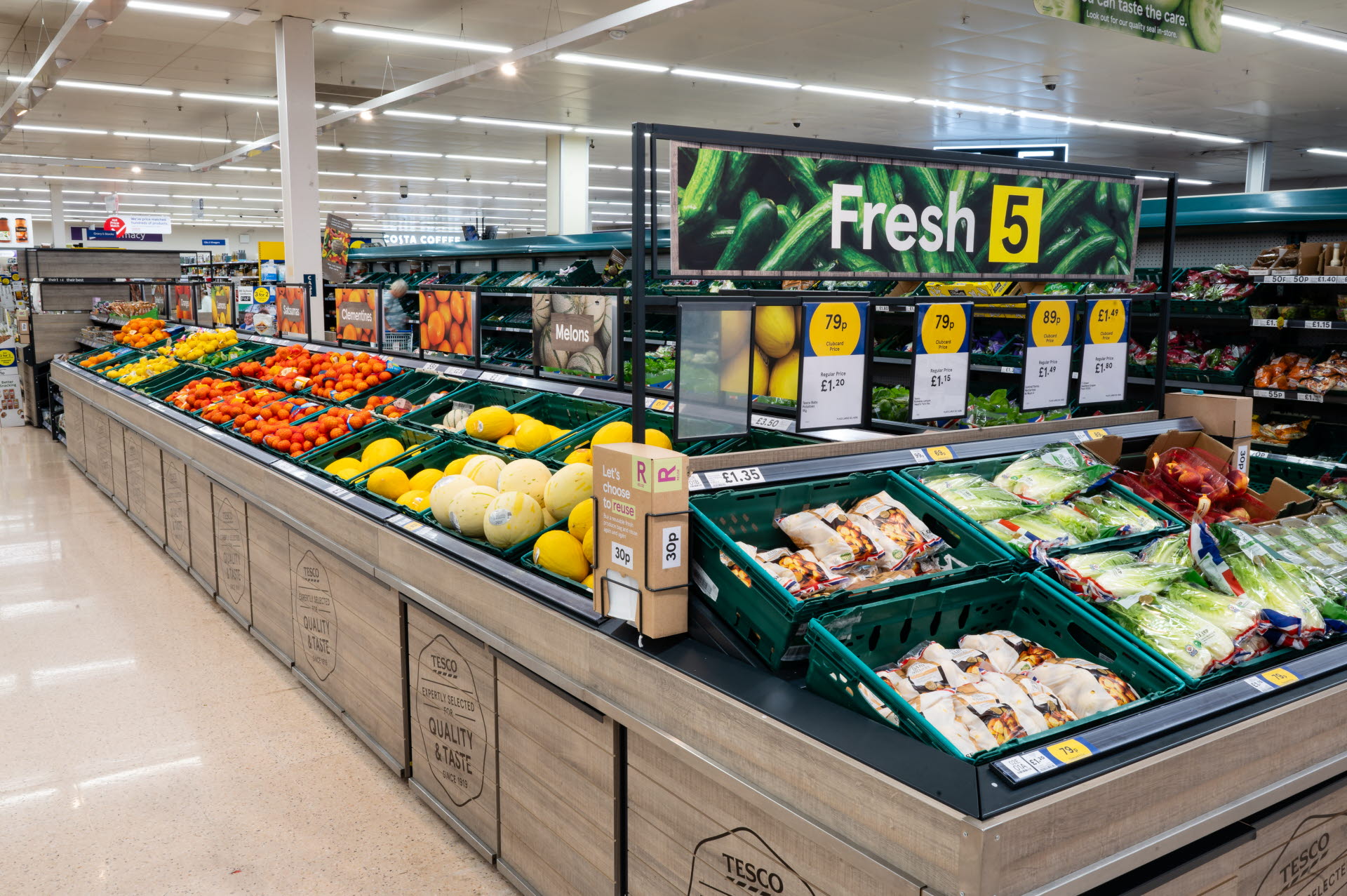 In collaboration with Tesco, ITAB designers developed and delivered a range of modular fresh produce displays. These displays enhanced product-level merchandising, operational efficiency, and maximized stock storage on the shop floor.
Considered Materials & Design Detail
One of Tesco's primary objectives was to ensure that the equipment's aesthetic seamlessly aligned with the store environment, existing material finishes, and brand guidelines.
Through our close and longstanding relationship, ITAB designers delivered a bespoke solution that not only met the brief but also provided a substantial return on investment for Tesco while harmonizing with their retail design strategy.
Innovative Design Improves Operations & Service
These innovative modular displays featured concealed storage trolleys, facilitating the relocation of stock from the warehouse to the shop floor. This led to a significant reduction in colleague replenishment time and non-value-add tasks, all while incorporating intuitive retail interior design concepts.
Colleagues now have more time to ensure empty shelves are efficiently restocked while also being readily available to assist shoppers. This approach has not only minimised the potential for missed sales but also improved customer service and satisfaction.
Food Waste Reduction & Clear ROI
Following a successful rollout in multiple UK stores, Tesco witnessed an immediate reduction in food waste. This reduction translated into a more substantial return on investment and further promoted sustainability, all within the context of a thoughtfully executed retail interior design strategy.
This achievement was made possible by designing equipment that supports stock rotation and incorporates visual barriers to prevent customers from selecting longer-lasting produce.
Enhanced Consumer Experience
The overall consumer experience was enhanced through a curated product range, increased stock levels, and improved signage in the fresh produce category. Shoppers feel at ease and well-informed with greater visibility of stock and awareness of the latest in-store and loyalty promotions.