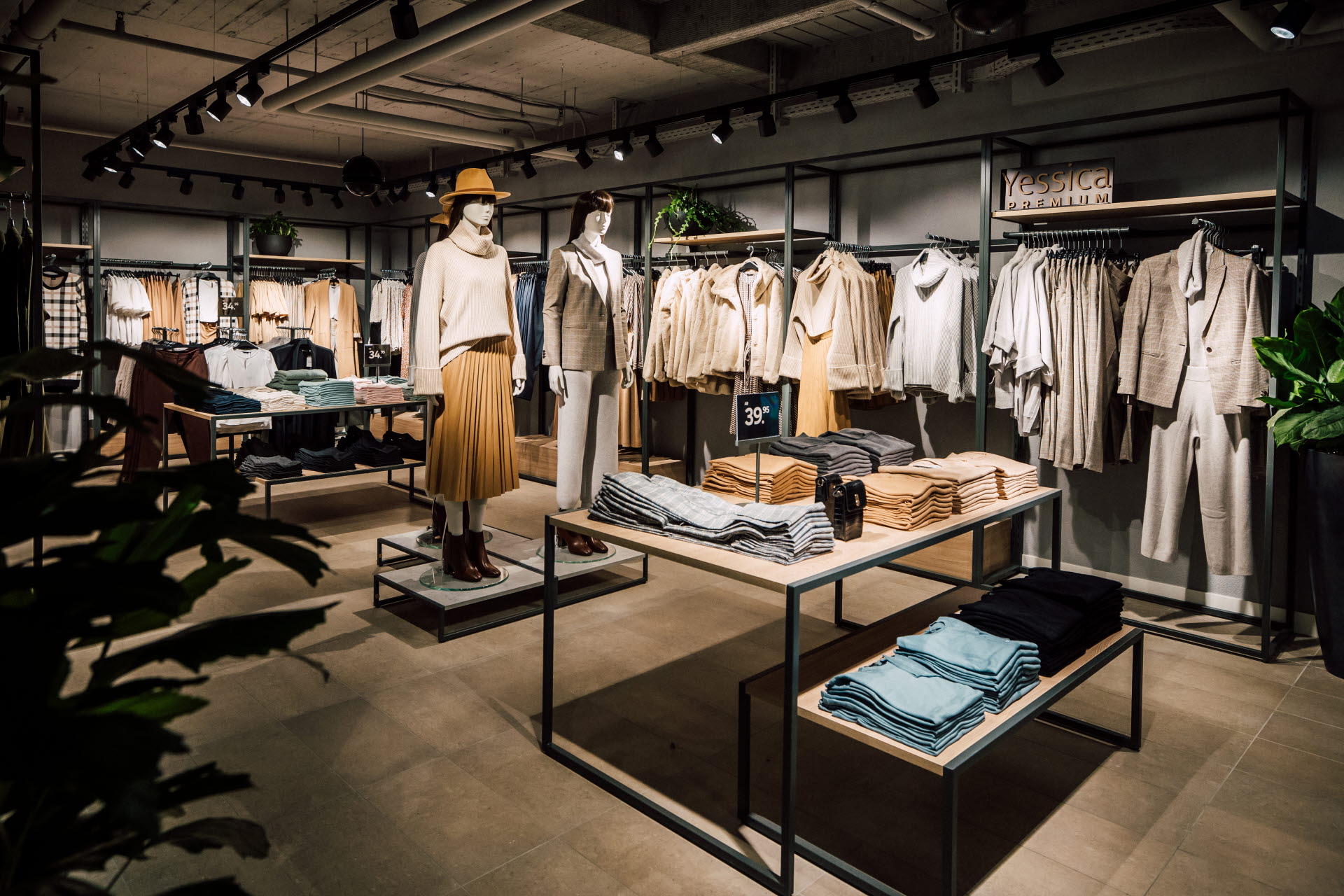 Wanted to change the perception of the brand
C&A´s lighting concept were outdated and confused the customer because of lack of orientation and customer guidance. The main mission for the lighting design was to support a new and fresh brand image as well as represent a new sales experience, based on C&A consumer's needs. All uplifted by an emotional atmosphere.
A lighting design process from the consumer point of view
The first step in the concept was to walk though todays concept and analyse it from a consumer point of view. Fields of analysing were what triggers impulse buying? what increases length of stay in the store? and, how do we create interesting focus points and develops an overall emotional atmosphere?
A consideration regarding where lighting could guide and influence consumer behaviour were then combined to the result of the analysis, and a few focal areas came alive. 1. Customers should be guided from presentation to presentation without being aware of it. 2. Accentuate exciting highlights should be used to increase the length of stay and to increase sales, and 3. the lighting appearance should be Significantly rejuvenated.
To achieve the wished influence on guiding and showcase, a complete new overall lighting concept were decided as necessary. In the creative drawing phase Exciting highlights accents was used in both merchandising and for branding purposes throughout the store. For example, eye catchers were placed in the store windows and entrance, and an exciting contrast between perimeter walls and mid floor with a significant presentation of the merchandise.
Then lighting techniques was evaluated to find the most pleasant consumer flow through the store, and general lighting were accompanied with special solutions. To end with the checkout areas got highlighted by special luminaires to easily be detected.
Attracting new audiences and increases sales
The emotional atmosphere and new branding do today attract the wanted consumers. A younger audience can be found as main visitors in the store which is a good indication on that the brand got a new perception by their new concept. The visitors that enter the spaces appreciate it and are more willing to stay a longer time. Sales have by a natural cause increased by the increased number of visitors and is supported by improved impulse buying. A bonus is the reduced energy consumption, because of the smart lighting technology.