Digital tools to improve the customer journey
Retailers need to find innovative ways to transform the in-store customer journey to entice customers back into stores.
Together with partners we developed a solution for ICA Roslagstull, part of the second-largest retail company in the Nordic countries. The solutions offer many innovative ways for customers to engage and provide an improved customer experience.
A seamless grocery shopping experience
Consumer expectations require retail to change. They want environments that provide convenience, choice and/or a place for socialising and fun. A successful concept must stand out by offering a frictionless customer journey and experience that meets most or all of these raised expectations.
By understanding consumer needs, our customer saw an opportunity to create a 'next generation' grocery shopping experience by bringing part of the online experience into the physical store.
ITAB Cloud Platform – entire consumer journey on one platform
The solution was to find a homogenous digital infrastructure that connects all the stages of the customer journey via a single platform. Together with our partner Ombori, we developed ITAB Cloud Platform, a flexible, modular, retail technology platform that incorporates many different applications and through that reduces costs, data errors, and provides an end-to-end overview.
The system relies on three components:
 The customer's mobile phone.
 The QR code.
Interactive digital devices positioned in various locations throughout the store.
From the moment the consumer arrives at the store until they leave, these digital touchpoints make the customer journey smoother, faster, and more enjoyable. As an added benefit, the service efficiencies from delegating tasks to digital devices free up staff for other roles and reduce operational costs.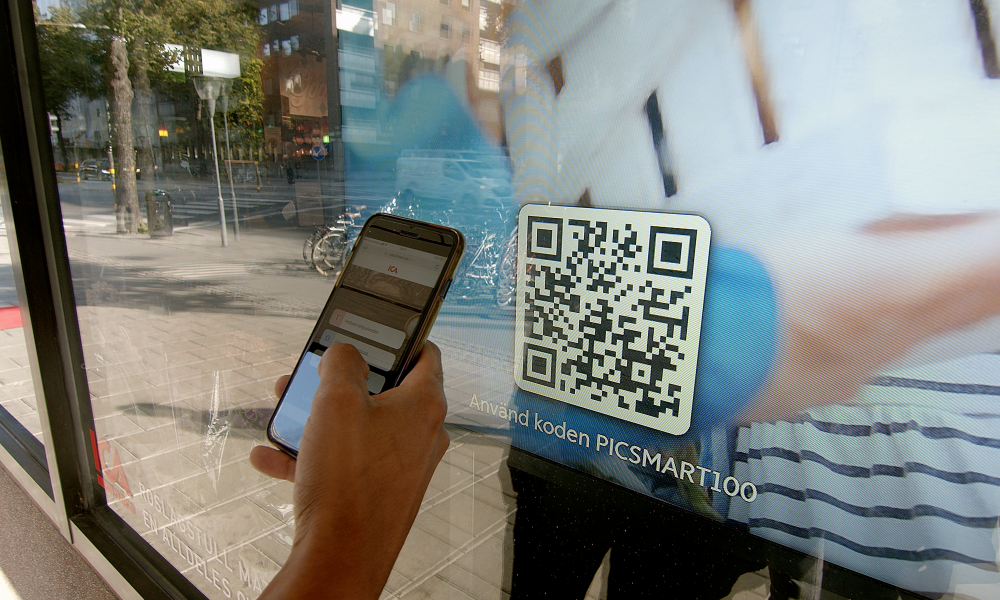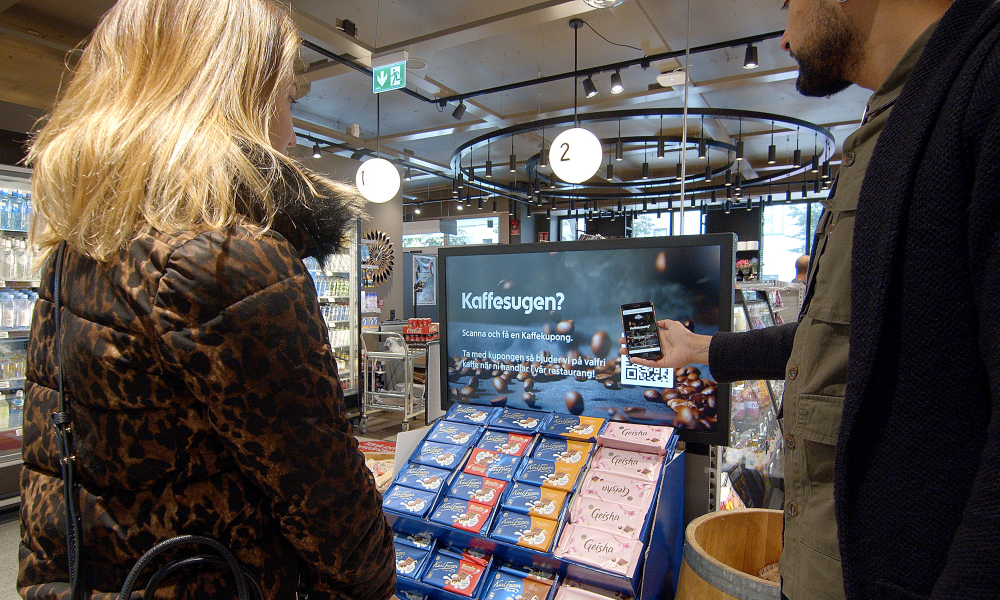 Convert and sell through engagement
A welcome screen at the store entrance provides an additional opportunity to display promotional content, offers, or coupons. These can be downloaded to the customer's phone via a QR code.
Guided selling stations are positioned throughout the store to provide inspiration. Customers can browse for food and drink recipes from around the world. By scanning a QR code, they can download recipes direct to their phones.
Solutions to improve efficiency and service
At the deli counter, customers do not have to wait in line. They can use their phone to join a virtual queue and receive a notification on their phone to tell them when it's their turn. A high level of convenience and 'time well saved" for the consumers. Who can continue to shop without waiting in line.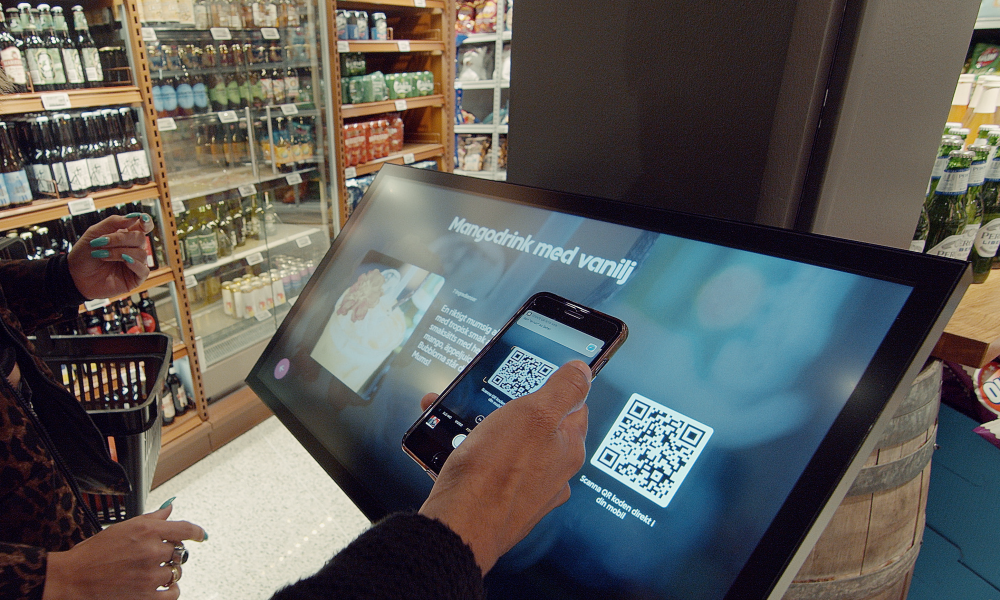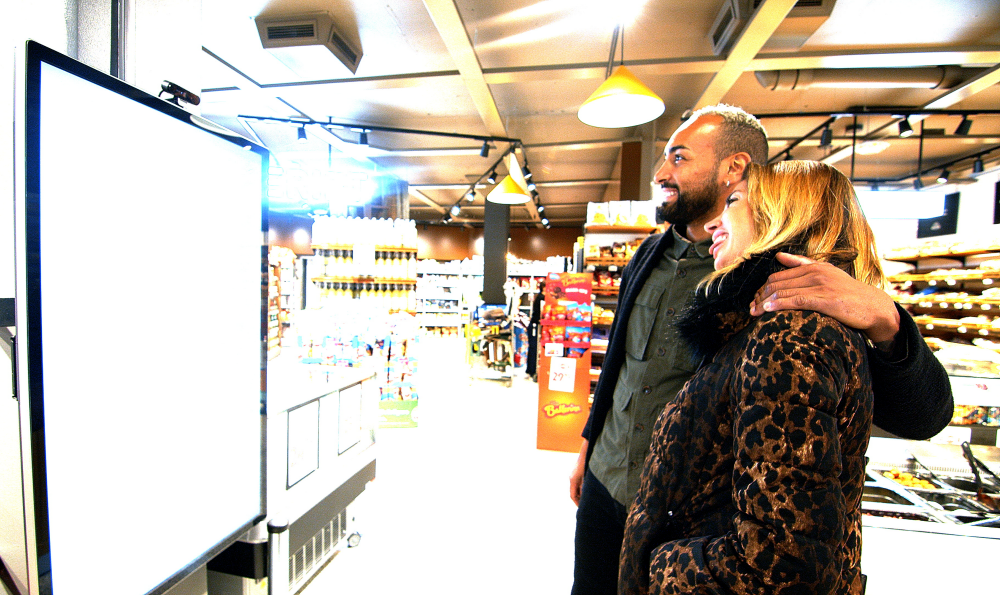 Let consumers promote your brand
To provide a bit of fun and have consumers wanting to be associated with the store brand, our voice-activated "selfie mirror" allows them to take branded pictures of themselves and download them to their phone or share them with friends on social media. This not only makes their visit more enjoyable, but also promotes the brand. Even grocery shopping should be fun and help reach the desired consumer brand experience.
Checkout convenience
Customers can complete their purchases at a manned or self-checkout station, and pay with their credit card or phone. The checkout process includes additional promotional material as well as information on home delivery, other services, and upcoming events.
Ombori Grid, Selfie Mirror (Guided selling, store occupancy control, queue management)