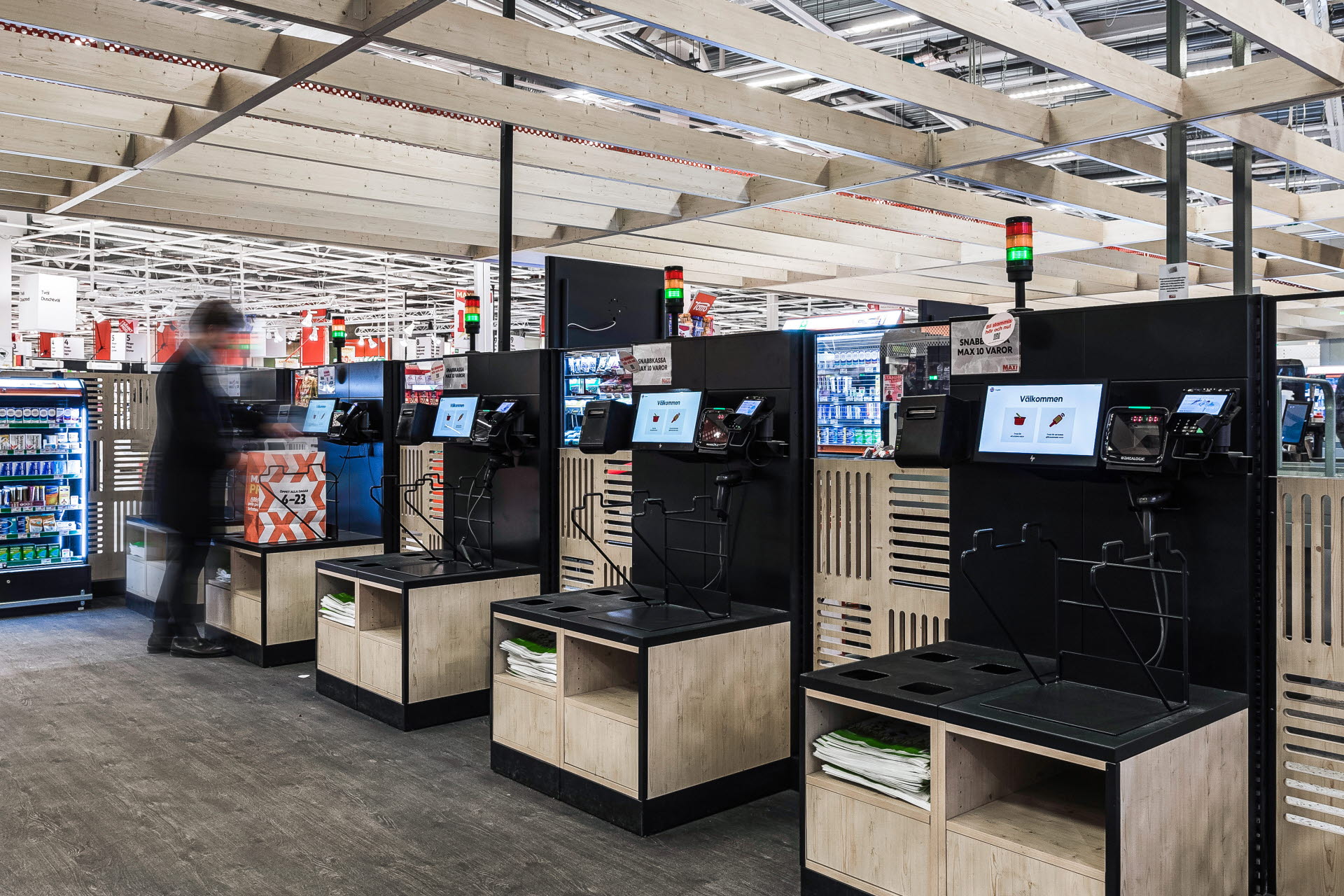 Home

/

Self-checkouts and digital queuing for better ergonomics, efficiency and customer satisfaction
Self-checkouts and digital queuing for better ergonomics, efficiency and customer satisfaction
The Grocery store, ICA Maxi Barkarbystaden in Stockholm, wanted to find an optimal design and layout for their new self-checkout area. It needed to be safe, efficient, as well as consumer and staff-friendly. But also an area that could expand easily if needed, in line with consumer demands.
The store is located in one of Northern Europe's most expansive areas and offers many different types of payment options, which increase the demands on capacity and flexibility.
In conjunction with the refurbishment, the store also rebuilt the entrance and front shop where they chose ITABs digital queuing system, and this is also used in their Deli section.
Ergonomics, efficiency and customer satisfaction
The store has a broad mix of consumers, consisting of weekly self-scanning shoppers, to those with smaller purchases who prefer to check out at a self-checkout.
One of the store's challenges was that at certain times during the day, a number of consumers were utilising self-scanners for larger purchases, whilst in the middle of the day, the proportion of consumers in the self-checkout space is significant.
ITAB's layout proposal became a flexible zone, where all consumers were offered to make a purchase no matter the type of checkout, and at the same time maintain a good overview for both consumers and staff.
The store wanted to achieve a soft and warm appearance, which in turn created a calm atmosphere. To design this, ITAB added a floor solution that is ergonomically pleasing to the employees, but also contributes to a comfortable checkout for the consumers.
The area consists of 24 stations in total, one checkout for "Bag Check" and two exit gates.
" The new checkout area is much better and better looking! Before, we often had queues outside and into the area. Now that doesn't happen, even though we have about 45,000 consumers per week. The area works much better and smoother now. The floor is softer, nicer, cushioned and more harmonious for the customer. For the employees, the new floor means a nicer and improved working environment."
Therese Hagelin, Checkout manager
Improved consumer experience and sales
Previously, the store suffered from queues at the self-checkouts. However, since working with ITAB, they have an optimised area with a significantly higher capacity that can also expand if needed.
A tasteful design combined with good ergonomics and a good overview, contributes to a pleasant atmosphere, improved flow, increased efficiency and higher level of service.
RELATED CASES
Get further inspiration from similar concepts